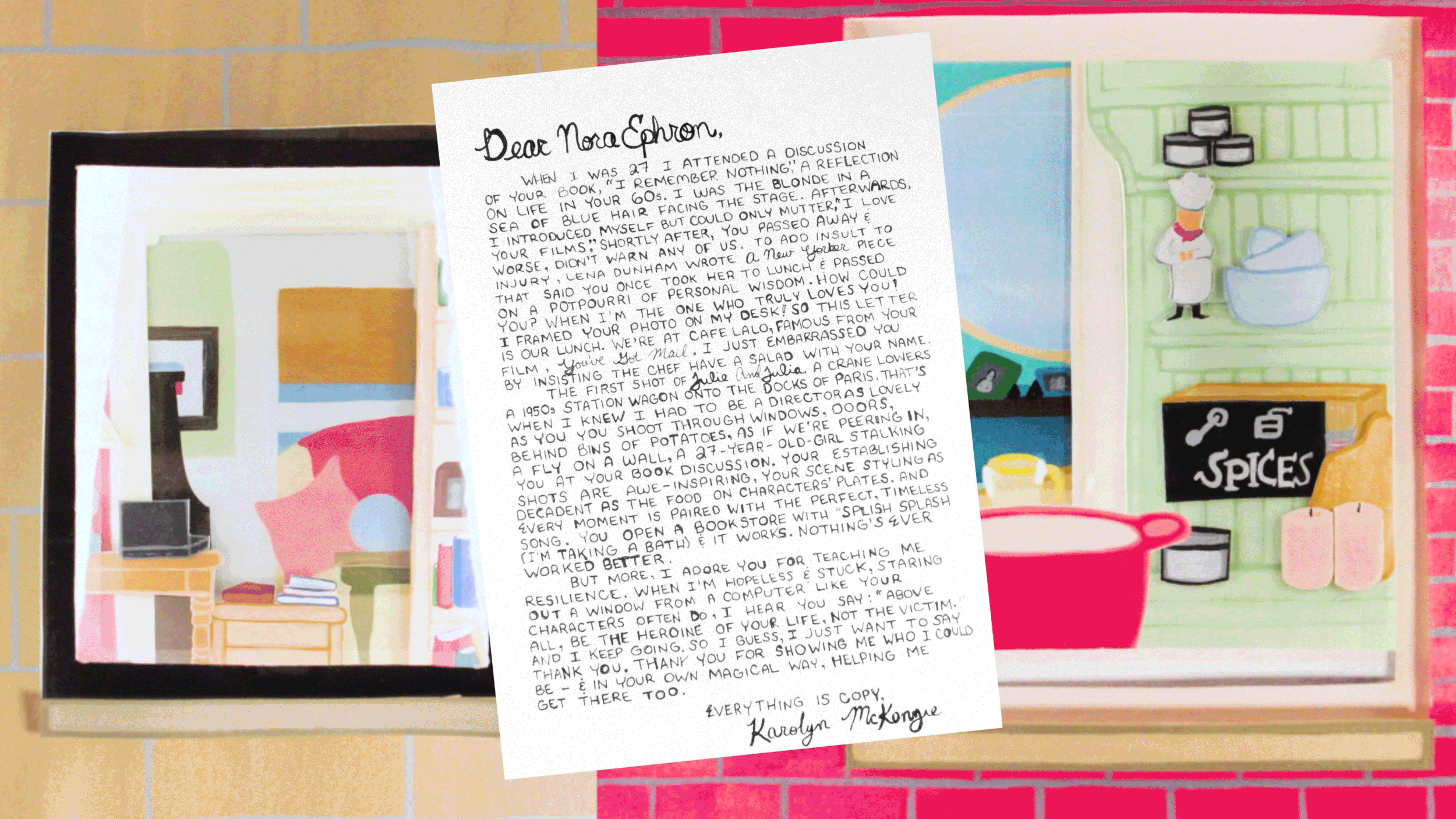 Our Favorites
& How to Watch Them:
Nora Ephron
Art by Julie Sabo (@julie_sabo)
Letter by Karolyn McKenzie (@KKsalad)
This is my Life (1992): Nora's first movie! Two young girls come to grips with their mother's stand-up comedy career. It's not often Hollywood lets anyone make full films based on mother-daughter-career-dynamics, but Nora made it happen. Fun to see her genius take off. Look closely and you'll see identical floral arrangements used in Julie and Julia and the same string-lights from You've Got Mail.
Sleepless in Seattle (1993): Cute, funny, kismet, you'll find yourself falling in love with the film that validated women everywhere stalking men they'd never met. Some people like it more than You've Got Mail but they're wrong.
You've Got Mail (1998): Honestly, Ephron doesn't make a misstep in this tale of anonymous love over the internet. The directing is flawless, and it's as if the characters are personifications of the journal where Ephron wrote every witty thought for ten years. Best at Christmas but comfort food for any season (or bumpy airplane).
Julie & Julia (2009): The simultaneous true stories of a 1950s Julia Child and a modern day blogger cooking herself through Child's cookbook. Some say they don't like this one as much but watch it with the sound off, and you'll realize it's Ephron's masterpiece. Every shot is breathtaking, full of expert depth cues, and framed in a way you don't realize makes you feel things. And Nora makes it look effortless.
Everything is Copy (2015): An inside look at Nora's life, helmed by her son, Jacob Bernstein. Absolutely crucial. Interviews with family, close friends and even scorned lovers!
Nora Ephron
Dear Nora Ephron,
When I was 27 I attended a discussion of your book, "I Remember Nothing," a reflection on life in your 60s. I was the blonde in the sea of blue hair facing the stage. Afterwards I introduced myself but could only mutter, "I love your films." Shortly after, you passed away and worse, didn't warn any of us. To add insult to injury, Lena Dunham wrote a New Yorker piece that said you once took her to lunch and passed on a potpourri of personal wisdom. How could you? When I'm the one who truly loves you! I framed your photo on my desk! So this letter is our lunch. We're at Cafe Lalo, famous from your film, You've Got Mail. I just embarrassed you by insisting the chef have a salad with your name.
The first shot of Julie and Julia. A crane lowers a 1950s station wagon onto the docks of Paris. That's when I knew I had to be a director as lovely as you. You shoot through windows, doors and behind bins of potatoes, as if we're peering in, a fly on the wall, a 27-year-old girl stalking you at your book discussion. Your establishing shots are awe-inspiring, your scene-styling as decadent as the food on characters' plates. And every moment is paired with the perfect, timeless song. You open a bookstore with "Splish Slash (I'm Taking a Bath)" and it works. Nothing's ever worked better.
But more, I adore you for teaching me resilience. When I'm hopeless and stuck, staring out a window from my computer like your characters often do, I hear you say: "Above all, be the heroine of your life, not the victim." And I keep going. So I guess, I just want to say thank you. Thank you for showing me who I could be — and in your own magical way, helping me get there too.
Everything is copy,
Karolyn McKenzie