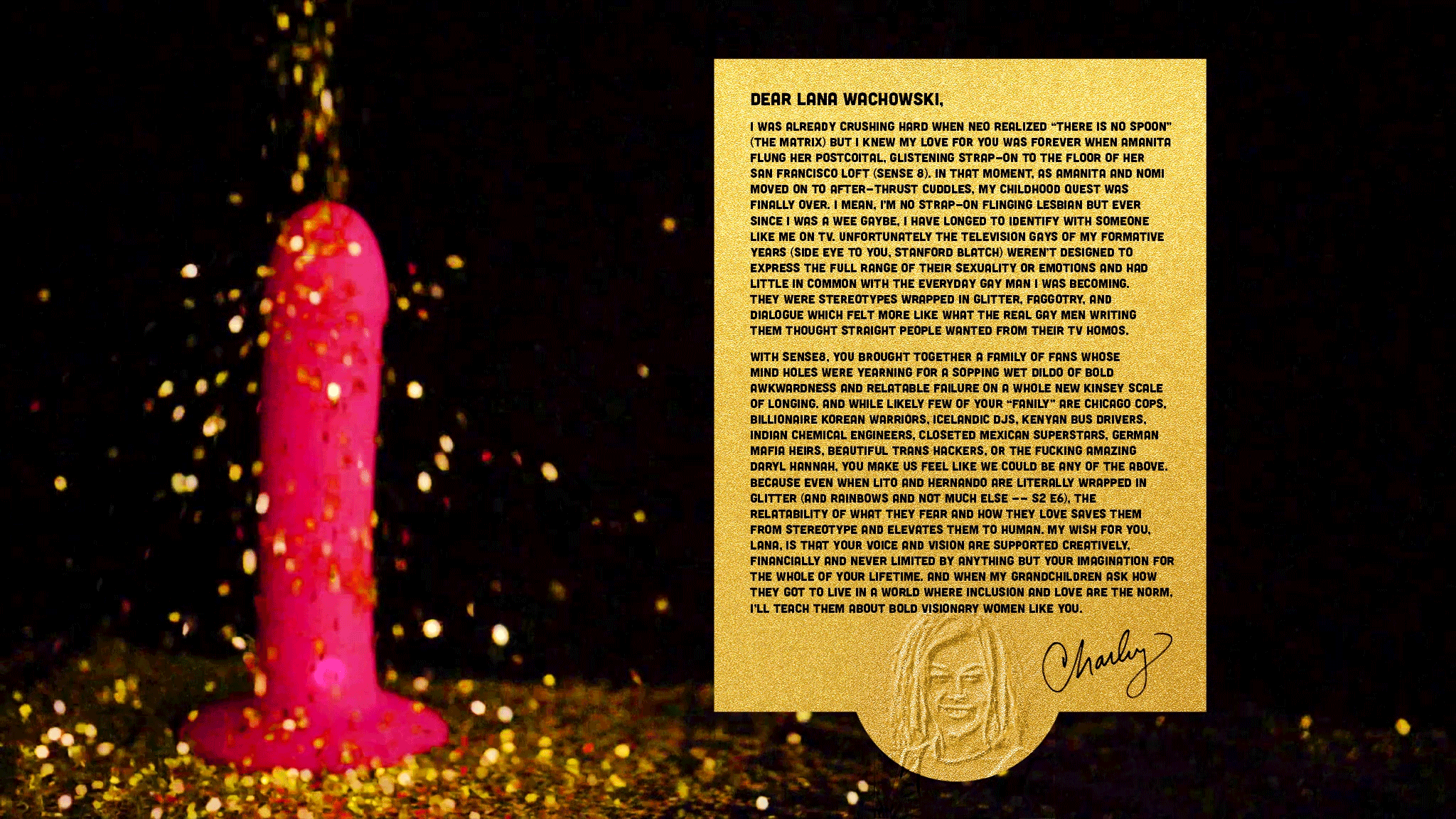 Our Favorites
& How to Watch Them:
Lana Wachowski
Lana Wachowski
Dear Lana Wachowski,
I was already crushing hard when Neo realized "there is no spoon" (The Matrix) but I knew my love for you was forever when Amanita flung her postcoital, glistening strap-on to the floor of her San Francisco loft (Sense 8). In that moment, as Amanita and Nomi moved on to after-thrust cuddles, my childhood quest was finally over. I mean, I'm no strap-on flinging lesbian but ever since I was a wee gaybe, I have longed to identify with someone like me on TV. Unfortunately the television gays of my formative years (side eye to you, Stanford Blatch) weren't designed to express the full range of their sexuality or emotions and had little in common with the everyday gay man I was becoming. They were stereotypes wrapped in glitter, faggotry, and dialogue which felt more like what the real gay men writing them thought straight people wanted from their TV homos.
With Sense8, you brought together a family of fans whose mind holes were yearning for a sopping wet dildo of bold awkwardness and relatable failure on a whole new Kinsey scale of longing. And while likely few of your "fanily" are Chicago cops, billionaire Korean warriors, Icelandic DJs, Kenyan bus drivers, Indian chemical engineers, closeted Mexican superstars, German mafia heirs, beautiful trans hackers, or the fucking amazing DARYL HANNAH, you make us feel like we could be any of the above. Because even when Lito and Hernando are literally wrapped in glitter (and rainbows and not much else -- S2 E6), the relatability of what they fear and how they love saves them from stereotype and elevates them to human. My wish for you, Lana, is that your voice and vision are supported creatively, financially and never limited by anything but your imagination for the whole of your lifetime. And when my grandchildren ask how they got to live in a world where inclusion and love are the norm, I'll teach them about bold visionary women like you.
Charley