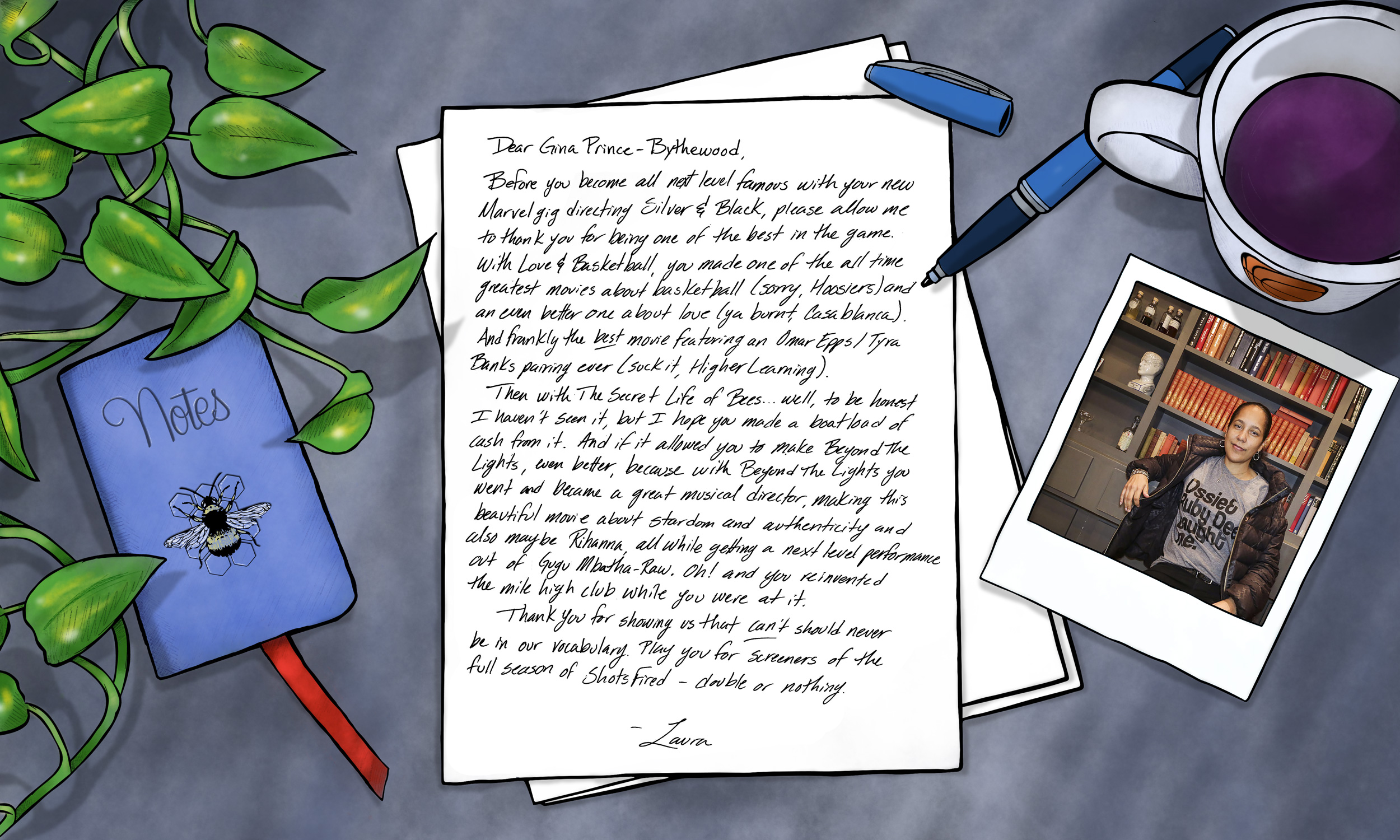 Our Favorites & How to Watch Them:
Gina Prince-Bythewood
Art by Mike Aldrich (@the_getting_monster)
Love & Basketball (2000): Two neighbors share a love of basketball and eventually (spoilers) each other. The movie follows them from childhood to adulthood as they fall in love and out of love and back in love, with a ton of flirty basketball along the way.
Beyond the Lights (2014): A police officer saves a pop star from attempting suicide, and then they fall in love. I know feminist alarm bells are going off in your head from reading that description, but please just trust that it's not that.
Gina Prince-Bythewood
Dear Gina Prince-Bythewood,
Before you become all next level famous with your new Marvel gig directing Silver & Black, please allow me to thank you for being one of the best in the game. With Love & Basketball, you made one of the all time greatest movies about basketball (sorry, Hoosiers) and an even better one about love (ya burnt, Casablanca). And frankly the best movie featuring an Omar Epps/Tyra Banks pairing ever (suck it, Higher Learning). Then with The Secret Life of Bees... well, to be honest I haven't seen it, but I hope you made a boatload of cash from it. And if it allowed you to make Beyond the Lights, even better, because with Beyond the Lights you went and became a great musical director, making this beautiful movie about stardom and authenticity and also maybe Rihanna, all while getting a next level performance out of Gugu Mbatha-Raw. Oh and you reinvented the mile high club while you were at it. Thank you for showing us that can't should never be in our vocabulary. Play you for screeners of the full season of Shots Fired -- double or nothing.